Natalie´s Life
Born in the 80´s, Natalie K, London born & bred, with 2 sisters, the middle child, always found herself active and enjoying sports, teaching herself to ride a bike at the age of 2 while playing in the family home back garden. Growing up, Natalie enjoyed trampoline and gymnastics, moving down to the south of the UK, she would go on to play for the school netball and rounders teams. Natalie had a passion to sing, her voice sounded out in the school chore for several years. After leaving school, Natalie worked in several hotels, passing jobs as housekeeper, then finally in 1998, a new chapter of Natalie´s life was to begin, finding her life partner, when Natalie met the love of her life, Gary B, now producer and director of Gspotproductions, Natalie´s business partner, a Bedford lad. Both in love and enjoying holidays and working together.

Enjoying their first years, working in ceramics with a tiling company and Gary a doorman and supervisor of several clubs and bars, evenings, nights and weekends. Both lived their first few years enjoying holidays in the sun, late nights out and just fooling around in love. In 2003, Natalie enjoyed her first multiple sexual experiences with her partner, soon to indulge in local swing parties and playing about on the local nudist beach, meeting strangers, enjoying intimate fun with like minded people. In 2004, The movement from the ceramic company onto the adult business become an obvious and apparent business decision, after setting up a profile on an adult escort site adultwork "luv2fuc". While working on a bathroom, tiling, their phone would ring and a stranger asked if they could meet, swinging and entertaining other men, paid income for their time with people and enjoying what they both enjoyed, having sex! This a perfect job, Natalie, very highly sexed and sexually motivated, enjoying to fuck at least once a day together, could now enjoy more enjoyable times through the day. Becoming escorts, working together, they met several strangers and realised, guys enjoyed their company together, a friendly, empathetic, relaxed and care free couple, both in love, enjoying sexual experiences with others. Both straight, on several consultations, Natalie would go on to perform and play with the gentleman and Gary would film the experience, taking written consent and ID, these porn scenes would become the next Chapter of their lives together and the start to a whole new life, with fast cars, boats, pool parties and bubbly, studios and much more to come in the near future, and here become the start to Natalie´s career in pornography and her life as a porn star…
In 2005 Natalie enjoyed playing in swing sessions at a local sauna with several men, filming the experience, and with the past footage of 121 cum sessions, playing around together on film at the beach, Gary decided to put the collection of porn scenes on a website, this a perfect way to display their active fun together, both mutually deciding on their first porn site, creating "adult-excitement". The amateur home made porn site took off, with new and exciting video scenes updated every few days, adventures from the beach, in their bedroom and outdoors dogging in public car parks was a huge hit to online viewers, this a professional career move and now with Natalie online, chatting to her loyal fans, appreciating their support, Gary and Natalie strived, as she still does, giving commitment and full attention to her fans, and the people involved in their life. In 2006 the shared server crashing due to high demand. Immediately took on a dedicated server, creating more sites and Natalie´s porn business escalated. By 2008 they had 5 niche sites, 1 for each niche creampies and cumshots, solo masturbation and toys, outdoor exhibition and dogging, stories and amateur reality, a tour site, and their newest adventure, a gloryhole site, this for the next few years, with moving to a larger home with a garage, converting the garage into a studio with a fully functioning gloryhole, live feed cameras, studio lighting, running adult gloryhole parties every Friday night, this continued for a few years.
Over the coming year, filming nearly every day, Natalie took time to enjoy touring the south of the UK, with tours to north and south London, Birmingham, Leicester, Nottingham and wales. The tours were filmed, some enjoyable behind the scenes footage, just chilling out in services, flashing in the car on the journeys and lots of footage from the hotel rooms, in the bath, playing around on the bed and meeting her fans. Natalie would go on to travelling to events and award ceremonies, like the ETO "Erotic Trade only show" 2008, where Natalie shot a short promo vid for Northampton based toy company Rocks Off ltd. Also enjoying to introduce each other to British talent and producer Ben Dover, remaining friends and Gary arranging continued business with Ben.
In 2009, Natalie´ K released her first DVD through a company, "Poco Loco Media". Also to be Natalie´s and Gary´s "GspotProductions" first DVD release, with 1000 released, the Filthy British Women, Natalie K, was the highest selling DVD in the local Harmony stores in Bournemouth, that month, ordering twice the amount of usual, this heard through the grapevine from the store manager.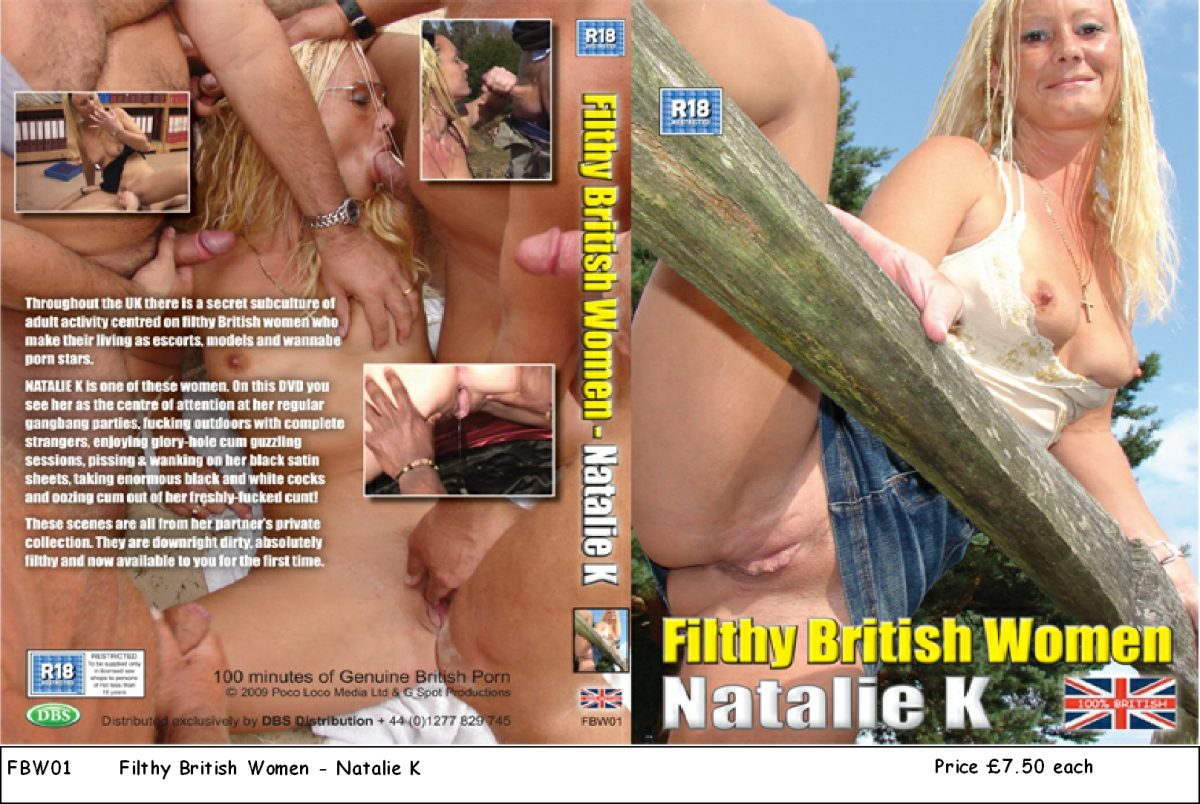 This first DVD title is available for purchase in our DVD sales page or from other online companies and maybe still available in the shops
Natalie shot a film in 2010, starring with several other actors and another British porn actress, sadly the film still remains unseen by the world, the movie includes, Natalie being fucked over the bonnet of her car by the 2 males actors in a known dealerships garage, paperwork all signed, but with failure to find the appropriate buyer and for the right price.
Over the next few years, Natalie´s collection of adult content, the porno movies and photo sets become of a higher standard and quality with HD cameras and Gary´s desire to produce erotic amateur pornography, rather than just party and home made material. Filming quality movies was the next big step to where Natalie has flourished into a delightful, adventurous and sexy porn star. Filming plenty of erotic movies, still arranging parties, the cumshot and amateur vids still a fantastic seller, with fans wanting to be part of the action, coming to play with Natalie and sign paperwork, Natalie´s life was busy and fun. In 2010, a build of a swimming pool in the back garden was going to bring new footage through the coming summer! All hard work, and with their own hands, working hard on creating their own porn palace. With parties, filming and fun times, filming other models for their new pay site SouthernCumsluts, filmed in the studio, gloryhole, around the pool with bubbly and bbq´s, Life was good, apart from the studio being a little small, so a larger office, studio and business model was to become the next chapter to Natalie´s life…
Moving from a house with the small studio conversion on the side, to the new apartment with a soon to be, high street studio open for business beneath. In 2012, Natalie helped construct and build their second studio, "The NrG studios". A fully equipped professional photo & film studio, with quality equipment, lighting, cams, wall monitors in each studio room, back drops, cameras and most of all soundproofing, the main studio was rented out to several unnamed companies, 2 smaller cam rooms in use by cam models, offices, a dedicated air conditioned computer and server room, showers and toilet. This high street studio was located under her new apartment in Bournemouth, a secure change for Natalie, her work and content, number 1 of importance. Both Gary & Natalie took months building and constructing the soundproofed rooms, a room in room floating box idea, this to be used for live cam, taking girls from the streets and giving them a safe place to work.
Natalie filmed most days, using the studio equipment, updating her porn pay sites with high quality adult footage, from photos to film and now with studio quality HD live cams. Several years past, meeting a few other British models, other interesting people from the adult business, life in the adult business community grew, although with high overheads, the cam studio just afloat and rates, utilities becoming expensive. In 2014, selling up was an option as both craved to live abroad, enjoying sunnier and warmer climates. Natalie would decide to move to their dream location, this the next chapter of Natalie´s life. Enjoying weeks and months of holidays every year in the warm Spanish sun, living on the Mediterranean , on the Costa Blanca, an area of Spain, the perfect dream location to both Natalie & Gary. Closing shop, purchasing a caravan, an easier travel plan than staying in hotels and worrying about their goods. Both planned to travel the south of the UK for a final tour, head through France, staying in several locations, and finally travel south through Spain, to stay in their final destination and search for their new home.

Leaving the UK in the April of 2014, travelling through Southampton, north London and Sevenoaks, near Maidstone in Kent, meeting fans on the way, before in the May, travelling across to France on the Eurostar, travelling to make the move, to live abroad. Both Gary & Natalie, drove in their Skyline GTR, towing a caravan, packed full with essentials, laptops, studio equipment, TV, DVDs, all work related, drove into the sunset, heading south through the evening to drive to Spain and find their new home. The Gman created a video, this we can all see here, the touring to Spain, stopping in several parks while they enjoyed their journey. On the tour movie, see Natalie flashing boobs, meeting strangers, visiting local landmarks, from the Eiffel Tower in Paris to the rocks and beaches of St. Tropez, with plenty of behind the scenes footage and hardcore sex, from cock sucking to full on fucking.
To Be Continued…
-Moving to Spain.
-More DVD released
-Big decision to drop the dedicated server, move to ModelCentro with two sites, southerncumsluts and for Natalie, the one single site – NatalieK.xxx adult friendly site to be searched by adults only.
-More fans on different platforms
-Filming for occasions and adverts for other companies
-Using the bars, beaches, lakes and home solarium for productions
-Relaxing with a healthy lifestyle, feeling secure with good fans
-Although relaxing, a busy life filming daily updates and private clips


Statistics
Sex : Female
DOB : 12/02/1980
Body type : Athletic
Height : 5´5
Size : 36/29/36c
Weight : 9st
Eyes : Brown
Boobs : Natural 36c
Hair : long blonde
Career : Porn star and model
Sexuality : Bi
Sexual preference : Men, but have enjoyed woman
Shoe size : UK 7
Tattoos : one on shoulder and one on hip
Place of birth : London, UK
Country of residence : Spain
Genres : huge array of niche, from solo to parties. Toys and insertions, lingerie, stockings and panties, stuffing and fucking, pee and piss play, outdoors with dogging, fucking and flashing, gangbangs, bukkake, gloryhole, moresomes with cumshots, creampies, blowjobs and handjobs.
Likes & Dislikes : enjoys relaxing to favourite movies or walking, doesn´t like rude people.
Sports & fitness : swimming, cycling, enjoys gymnastics and trampoline
Pets : my baby, a beautiful Tuxedo cat.
Smokes : Occasionally. One cigarette before bed
Favourite food : Meat, all types, especially pork with crackling and steak
Favourite drink : Vino blanco or Daquiri when relaxing
Favourite car : Skyline GTR R33

Favourite toy : The big red 12 inch dildo
Favourite lingerie : crotchless bodystockings
Favourite place : anywhere that serves wine or Daquiri

Favourite position : Cowgirl, nothing better than riding a hard cock
Favourite sex : Enjoys oral, giving and receiving. Loves her pussy and ass licked, and especially enjoys clean up, sucking & licking the spunk off a used cock
Personal website : NatalieK.xxx Natalie´s official site
Natalie´s links
FanCentro vids & snapchat / AdultWork clips & livecam / OnlyFans vids & private DM / Fansly vids & private DM / AdmireMe clip & pic feed / Manyvids custom porn clips / LoyalFans clips & pics / Peach pics & clips / AVN stars pornstar vids / Iwantclips adult clips / ExtraLunchMoney / Clips4Sale vids for sale / Ismygirl adult clips / SkyPrivate Skype live cam / Natalie K´s replica pussy / Natalie´s Tap Bio / RedGifs Free Porn gifs / German online magazine / Switter adult xxx twitter / ImageTwist paid porn pics / Smuttyfy / Smuttyfans subscriptions / Ero Awards / Freeones / Natalie´s filthy Reddit / SouthernCumsluts FTG / XHamster Pay per view / IMDB internet database / AdultEmpire xxx DVDs / Escort & adult mini breaks in Spain / /
Join Natalie K in our free public chat room
Please read the following before entering :-
Click on the concealed chat room below to join Natalie K and many of her fans, like minded guys and girls discussing Natalie, her website and other platforms run by Natalie. Chatting about her vids and pics, what they thought of the movies they´ve enjoyed and the photo sets, all comments are constructive and in good nature, enjoy discussing what you would like to see from Natalie in the near future!

Welcoming you to sign up free, drop in, say hi, & using your email address and password of your preference, sign into the chat room with your claimed username and your own personalised avatar every time you log in.

For now, we´re approval checking users and posts, this to stop both spam and trolling, as it´s a new concept and could easily be misused, this we hope understandable and acceptable. We do not see usernames, emails or passwords.

When using our public chat room, please respect our choice for use, be respectful, polite, friendly and converse with our guests and Natalie´s fans, commenting about your own likes and dislikes regarding Natalie´s content, please keep the room free from spam or speaking of other models and websites or content owned by or displaying other models.

Please do not discuss other topics, politics or regarding anything other than Natalie and the sites and pages we run, the content we film and produce for you and your enjoyment. We ask you not to converse about anything hateful, abusive, underage, racist and harming to others and anything that can be seen to be of negative nature. You will be banned!

This chat room has been given to you to enjoy chatting about your favourite pornstar "Natalie K", and shall only be used to discuss her content and your thoughts on her films, selfies, why you enjoy being part of her life and why you support her and where you have a subscription to her footage. What site do you subscribe to? What was your favourite clothing, film or photo set? What you´d like to see Natalie shooting next or over the coming year and how you would like Natalie to be seen in her next scene…
You can exercise your thoughts of what you´d like to see in her next vids and the movies coming up over the coming months!

Click on the join now below and enjoy chatting with filthy buggers like yourself! Natalie should be inside and available to chat to, waiting for you inside, unless it´s at some ungodly hour! Then, she will be catching up with you manana, tomorrow for those of you who don´t speak Spanish…
Sign in below, Enjoy!
Natalie´s public chat room : discussions regarding Natalie and her films, pics, sites and platforms


Natalie´s favourite pages
Natalie´s erotic stories – all true stories from Natalie´s life as a pornstar
Spanish breaks – Join Natalie abroad for a GFE weekend mini break
Free porn vids – a selection of free porn trailers, clips and vids