Following Natalie K and enjoying her amazing exclusive content, her pics, vids and clips, especially the free clips and pics given to her fans, Natalie´s hoping you´re as dedicated to her as she is to you, and there´s nothing wrong with obsession, when you can enjoy it at a great price!
This month for the run up to Halloween, Natalie is offering fans, a whopping half price discount on monthly subscriptions! Yes, 50% off her usual $24.95 monthly fee, pay only $12.95 this month and onwards, continued through your subscription!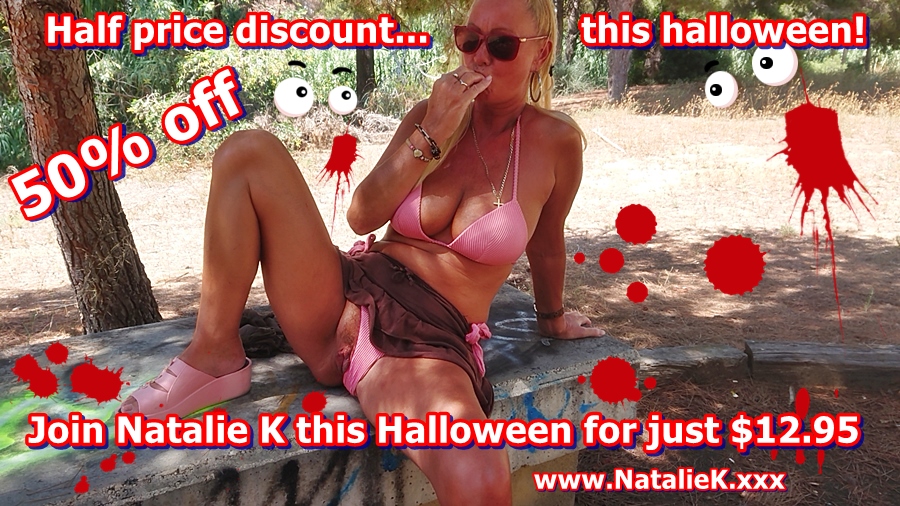 This, the biggest price reduction in 16 years of our official sites access, and the hugest discount Natalie has given…
at just $12.95 for the month, you gain full access to daily updates, pics, private clips, private chat in personal DM, with over 1200 scenes, there´s so much hardcore exclusive porn footage of Natalie using toys, giving JOI, sucking and fucking cock, you´ll be spunking every day for the next few months!
Join Natalie K now at her official site and enjoy the run up to Halloween! We´ve got something special for you as we do most years, this year, you´ll be wanking over Natalie´s new amateur video, outside in the park, shooting naked for you to view on Halloween.