This week Natalie´s been shooting some erotic scenes from her bedroom, some alone with toys, others with POV and as with this scene, a cum on ass cumshot finally.
Playing on the bed, wearing a tiny tight body, Natalie caresses her tits and fingers her pussy before bending over to finger her ass and pussy, tasting her juices. In the film scene, Natalie takes a cum over her ass with POV anal fingering and her pussy finger fucked with wanking over her ass until she takes a cum, and continues playing with the cum on her ass between her fingers.
Click here to check out the video preview of this scene…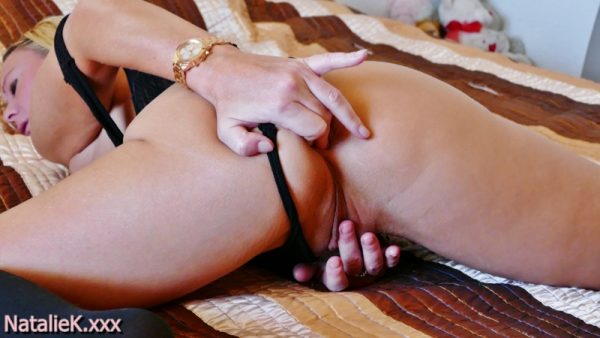 Click here to view the full FHG set of free images…
Affiliates please use the fhg url below with any images from our post, but please do remember to change our affiliate code to your own. If you´re not already signed up to NatalieKash, please click here…
http://nataliek.xxx/r/KvKXdTdI/free-gallery/36034/fingering-in-tight-black-body/photos
If you´re not already a member of NatalieK.xxx you should take up the 545, 5 day for $5 special, see if you enjoy wanking over all of Natalie´s exclusive collection. If you do, stay for just $18 a month & enjoy chatting direct with Natalie with her private messaging, receiving personal pics & tell her how you would like to see her, Natalie loves filming custom vids for her fans, included in your pass!